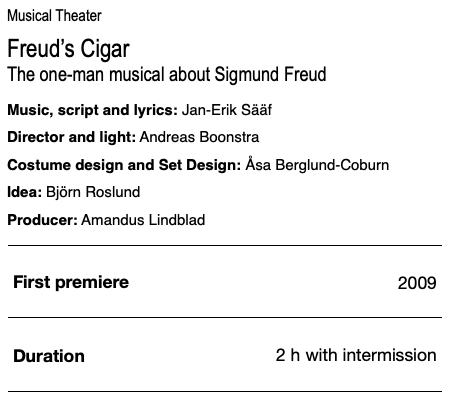 Do you get turned on by the wrong people? Who is the one nagging in your head? Does your wife look like your mother? Phobias? Come lay down on the couch, Dr. Freud has the explanation!
The amazing piece is back! The musical Freud's Cigars gives a glimpse into how Sigmund Freud thought, where he came from, what he went through and what drove him. But following Freud is like following one's own thoughts, the universal human questions that touch and engage us all. Who am I? How do I work? Why do I have a penchant for pork sausages and why does my wife look so much like my mother?
We still know very little about 100 years after Freud created the structure of consciousness with the Superego, Id and Ego. Freud began to work on this mapping and, above all, he began to ask the patients. He listened. He believed, unlike his contemporaries, that the patient himself can sit inside with information that can lead to recovery.
Freuds Cigarr premiered in 2009 at the Boulevard Theater and played five seasons in Stockholm, Radio Theater in P1, toured the country and abroad as well as at the Gothenburg Opera. During April 2023, the performance Wien will play as a guest at the Theater Forum Wien, Porzellangasse. Then Freud finally come home again.
An audience and press success!
"A genius piece of musical theatre, where the lighthearted and playful in the musicians is mixed with crazy and humoristic life observations by Freud."
Östersundsporten

"Entertainment of the best brand."
Svenska Dagbladet

"Freud's cigar is a playful and pedagogical puzzle raised to entertainment through the clever ideas of director Andreas Boonstra. Jonas Nerbe plays several parts in a relaxed and virtuoso manner. He has a charisma that makes everyone think of sex as soon as he waves his pen or raises his eyebrows."
Expressen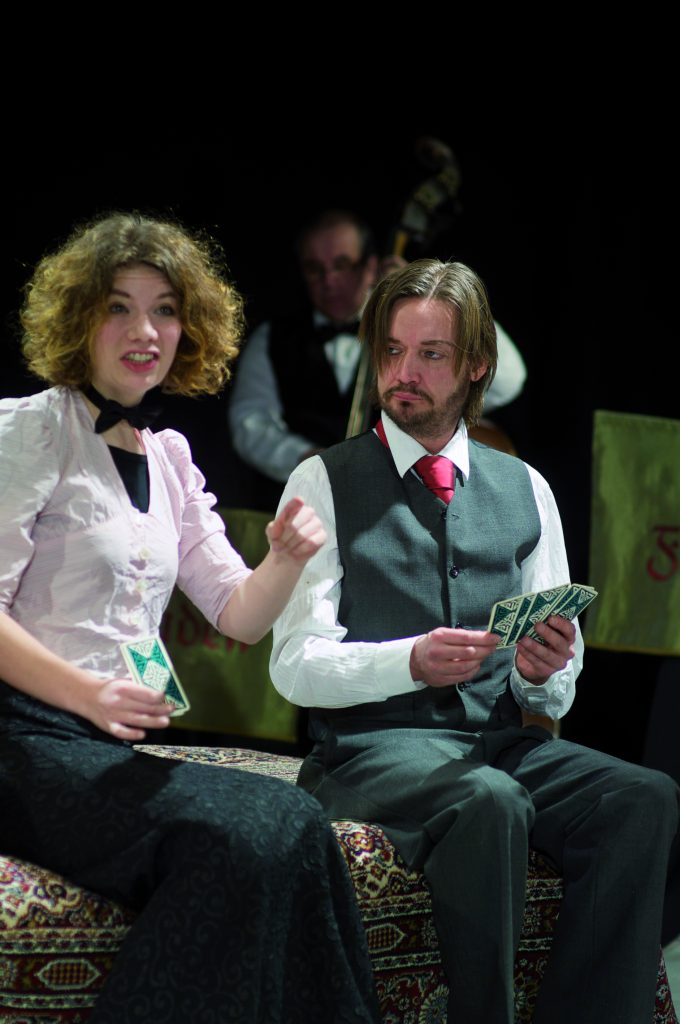 Trailer
See the trailer for Frued's Cigar!
Ensemble
Jonas Nerbe
Sigmund Freud


Anders Holtz
Piano

Sara Kihlman Wibe
Violin, Freuds young mother and sister-in-law
Information for stage bookings
Freud's Cigarr is out on tour 2023 and beyond. If you, the organizer, are interested in knowing more about our sales sheet in the link below or contact our artistic director Jonas Nerbe for more information under Contact.
Link to sales sheet: